Kazakhstan-Egyptian Businessmen Forum held in Astana
During the business-forum with participation of companies of the Arab Republic of Egypt, Marat Birimzhan, the Deputy Chairman of the Board of NC Kazakh Invest JSC spoke about the investment opportunities and support for foreign investors in the Republic of Kazakhstan.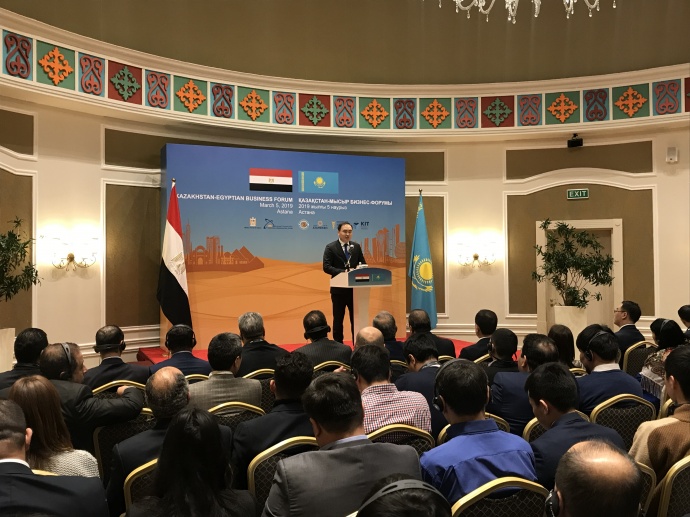 He said that NC Kazakh Invest JSC is the sole authority dealing with all negotiations, working on behalf of the Government of the Republic of Kazakhstan, representing interests at discussion of prospects and conditions of the implementation of investment projects. The company cooperates with investors by a principle of "one-stop shop", providing a full range of services on support of investment projects from idea up to implementation, provides assistance  in obtaining  public services such as registration of legal entity, reception of various licenses and conformances necessary for the implementation and further operation of investment projects. In addition, KAZAKH INVEST operates as the uniform coordination center at special economic zones of the Republic of Kazakhstan.
Business-forum takes place within the limits of the working visit of the delegation of the Arabian Republic of Egypt chaired by the First Deputy Minister for Trade and Industry of the Arabian Republic of Egypt Ahmed Taha Boraya. Within the limits of the visit, the Egyptian delegation intends to meet with Kazakhstan companies, akimat of Astana, and also with the heads of Ministries and Departments, Atameken and KIT business association. The Egyptian party considers an opportunity of investment in Kazakhstan and is interested in a meeting with representatives of business and business community of the country.
It is necessary to note that Kazakhstan and Egypt has close cooperation in trade and economic sphere. Trade turnover between Kazakhstan and Egypt according to results of 2017 accounted for USD62,4 million. Oil and mineral oil, metalware, linseed, etc., are for export and mixes of fragrant substances, chemical products, medical products, clothes, citron fruits, etc are for import.
https://ru.invest.gov.kz/media-center/press-releases/v-astane-prokhodit-kazakhstansko-egipetskiy-forum-biznesmenov/