Geography
Glubokoe district stretches far in the northwest part, through Ust-Kamenogorsk city, along the green banks of the Irtysh River, on the other side from the edge of mountains and lakes of Kalbinski Altai and a clutter of stony blocks of Dubygalinski mountain range. Tarhanski geological section is a monument of nature towering in the vicinity of Tarhanka village on the right bank of the Ulba river valley, being of special scientific value. The coastal lowland stretches from the foothill of Ivanovo and Ubinski ridges (Rudny Altai) where the Ulba river– the right tributary of the Irtysh River is formed at the confluence of the Gromotuha and Tihaya Ulba rivers. Its basic tributary is Malaya Ulba. Ulba Valley is situated in the picturesque mountain gorge with rocks.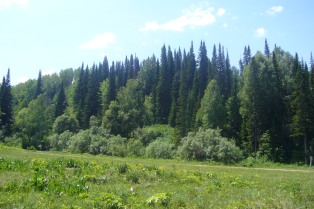 History
In 1730 Ivan Chuporshnev, a mine foreman, discovered a richest Beryezovski deposit. From 1731 that very deposit had been maintained by forces of the experienced workers brought by Demidov from Nevyanski factory. Bread and fodder was delivered from far Siberian and Ural districts.

The Siberian Decree "On occupying of a place from Ust-Kamenogorskaya fortresses and on build-up there, in convenient places, fortresses and settling of that party on the Uba rivers, the right inflows of Irtysh to Beryozovka, Glubokoe, Ulba and to the other rivers running into the Irtysh, by Russian people not more two thousand persons" was published in 1760 for solving the food problem.

1761 is the year of birth of Glubokoe. According to the stories of old residents, at the bottom of Petushok hill Ignaty Gubin settled with his family.
Territory
Now the district covers 7,3 thousand sq. km.
Borders
It borders on Shemonaikha, Ulan and Ziryan districts, Ust-Kamenogorsk and Ridder cities, and also on the Altai Krai. The distance from the district centre to Ust-Kamenogorsk city is 23 km.
Population
The population of the district totals 63886 people.
Infrastructure
Post offices - 24
Telecommunications facility - 1
Educational institutions - 40
Industry
Glubokoe district is one of industrially developed districts. In the district there are large mining enterprises, enterprises of processing industry, power, food, easy and wood processing industries, building enterprises.
The following 2 large enterprises are the basis of the mining industry: A branch of "Vostokzvetmet" Ltd Belousovsky Mining and Processing Integrated Work and Ore Mining Enterprise "Sekisovskoe". The mining industry accounts for over 50 % of total amount of industrial output of the district.
The metallurgical industry is presented by "Altai Ken-Baiytu" Ltd. The commodity output of this sub-branch is gold-bearing alloy "Dore".
The chemical industry is presented by "Orika Kazakhstan" JSC - production of explosive materials and explosives for mining enterprises of Kazakhstan.
Production of building materials comprises the following enterprises: "Vostok-Universal" Ltd - production of mineral boards and mineral wool products; "Shygys Keramika" Ltd, "Brick-building company" Ltd, "Elkhon" Ltd - production of bricks for building.
The food-processing industry comprises "Plemptisa" Ltd (production of eggs, meat and co-products of poultry), "Voshod – Milk" Ltd (production of milk and sour-milk production), "Krasny Yar" Ltd (production of flour and pasta), "Shih" Ltd (production of buckwheat and peas), "PKF Shahan-Ata" Ltd and IE «Baltayev» (bakery products), and also individual businessmen with production of vegetative oil, confectionery products, eggs and so on.
The wood processing sub-branch comprises subjects of small business which specialize in production of timber, blanks, window and door blocks, etc.
The light industry is presented by "Gretta" Ltd (production of garments: bed linen, special protective clothes, outerwear, etc.), "Meir" Ltd (production of shaft, ventilating arms) and individual businessmen of the district.
Land resources
Lands of agricultural purposes - 189287 hectares
Lands of settlements - 49595 hectares
Lands of the industry - 6272 hectares
Forest fund - 297974 hectares
Water fund - 2900 hectares
Lands of the stock - 40823 hectares
Other - 143412 hectares
Investment potential
"Nurslan" Ltd – "Ore processing at pilot workshop in Verhneberezovski village". The volume of processing will make up over 36 thousand tpy, need in investment of above 300 million tenge. Now the enterprise is approving the permitting documentation, soon will receive the approval of the state expert panel. Term of implementation of the project - 2015-2016.
«Mining and processing of ore in Belousovka settlement at previously closed operations of "Vostokzvetmet" Ltd. The ore output will account to over 130 thousand tpy, need in investments - up to 1800 million tenge. Mining and processing ore has been underway since the second quarter, over 800 million tenge is invested.
«Reconstruction of sunflower processing plant in Predgornoe village» - "Sary-Bulak". The planned volume of sunflower processing up to 150 thousand tpy. Construction, installation, replacement of old equipment etc are underway now. Term of implementation of the project - 2016.
«Production of copper matte in Glubokoe settlement» - "Zhana Zhanibek" Ltd (the volume of processing up to 300 tons per month). The project is prepared and directed to the independent expert examination, and also by means of the portal it is directed online to environmental safety examination and Administration for the Protection of Human Rights.
In June this year the Dairy farm for 600 heads of dairy cattle is put into operation in Solnechnoe settlement which has been constructed with the public support - creation of industrial infrastructure within the framework of the program «Business Road Map -2020». The amount of investment made up 2279,1 million tenge.
Tourist potential
On Altai there is an excellent skiing base "Altai Alps". It has ideal routes for beginners who come to slopes for skiing and snowboarding, as well as for fans of winter sports, and also for professionals of Alpine skiing. The complex is located near Ust-Kamenogorsk city, about half an hour drive away from the city.
"Izumrudny" is a unique complex of rest, sanatorium which is situated in a picturesque natural boundary "Gornaya Ulbinka" with magnificent natural landscape. Izumrudny sanatorium provides a range of services, different kinds of water procedures: mineralized baths, dags' baths, schungite baths, iodide-bromine baths. Such procedures as medical and health-improving massage, physiotherapy and physiotherapy exercises, UHF therapy, phytotherapy etc. have a special place. The dag's therapy is qualitatively provided too.
"Nurtau" resort is located in the ecologically clean area. In winter - skiing resort, in summer - a place for youth and family rest with children. Ideally for conferencing and seminars.
The centre of rest "Konny dvor on 22 km" - a fine place for productive leisure and dialogue with the nature in a picturesque corner of East Kazakhstan. You can go horseback riding (hippotherapy) here.