Kazakhstan and Korea to boost investment cooperation in agriculture, renewable energy, IT
Priority sectors of investment cooperation in such areas as agriculture, renewable energy, IT were discussed during an online webinar organized by NC KAZAKH INVEST JSC in partnership with the Korean Trade and Investment Agency (KOTRA).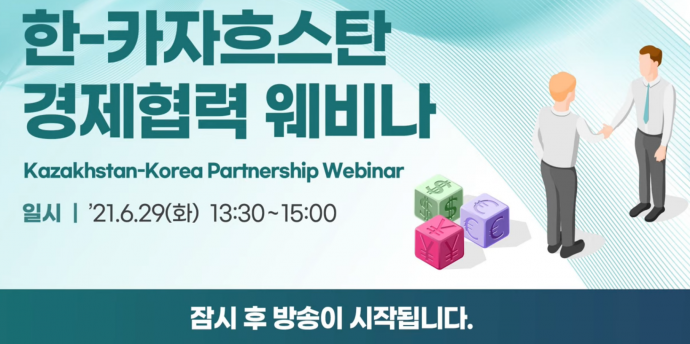 The online webinar was attended by the CEO of the National Company KAZAKHINVEST Meirzhan Yusupov, the Ambassador of the Republic of Kazakhstan to Korea Bakyt Duisenbayev, the Director of Electronic Industry Development Department of ICRIAP RK Zhanibek Mukhamedzhanov, as well as the representatives of the business community and KOTRA.
Meirzhan Yusupov gave the Korean entrepreneurs a detailed account of the investment climate in Kazakhstan and the prospects for Kazakh-Korean economic cooperation. Particular emphasis was placed on the attractiveness of Kazakhstan as a place of doing business and the localization of production in the country.
"Since 1996, South Korean entrepreneurs have invested about $7 billion in the economy of Kazakhstan. In 2020, FDI inflows from South Korea to Kazakhstan amounted to approximately $ 465 million. Currently, 20 investment projects totaling $ 2.5 billion are being implemented with South Korean companies. 6 investment projects involving Korean companies totaling 1.7 billion are in various stages of development, and 24 projects with a total value of approximately one billion are under study. For this reason, we are always happy to welcome all potential Korean investors in Kazakhstan and are ready to provide all the necessary support," Meirzhan Yusupov stressed.
At the same time, during the webinar, Madi Kanafin, Project Director of NC KAZAKH INVEST JSC, made a report on Business Opportunities in Agriculture and Food Production Sector, key factors of the investment attractiveness of this sector. He also introduced the participants to the measures taken by the Government of the Republic of Kazakhstan to improve the business climate and create favorable conditions for foreign investors, including various industry benefits and preferences, such as exemption from land, corporate income tax and property tax during the first decade of the project.
Following the meeting, the parties agreed on the need to further strengthen cooperation, deepen mutually beneficial trade, economic and investment cooperation.
https://invest.gov.kz/ru/media-center/press-releases/kazakhstan-i-koreya-ukreplyayut-investitsionnoe-sotrudnichestvo-v-oblasi-apk-vie-it/