Turkish investors ready to invest $160 million in Kazakhstan projects
As part of the visit to Istanbul, during negotiations, the Kazakhstan delegation reached preliminary agreements on cooperation on a number of projects with representatives of the Turkish business community. The visit was in follow-up to the dialogue with foreign investors that was previously established via video conferencing.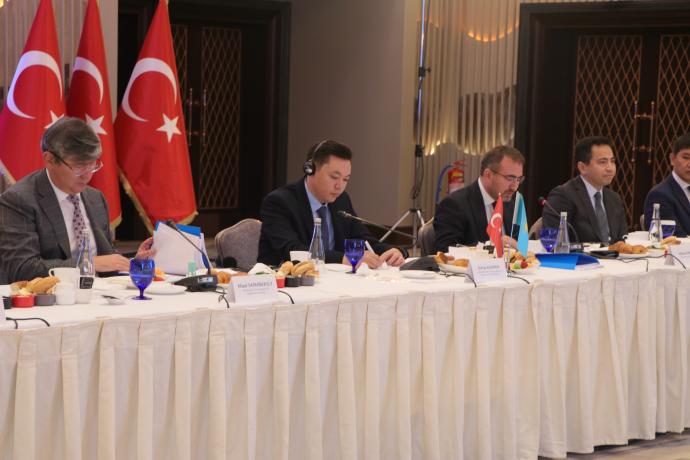 The delegation comprised the Deputy Minister of Foreign Affairs of the Republic of Kazakhstan Almas Aidarov, Ambassador of Kazakhstan to Turkey Abzal Saparbekuly, Deputy CEO of NC KAZAKH INVEST JSC Galym Uzbekov, as well as representatives of local executive and quasi-state agencies of Kazakhstan. The Turkish side was represented by the owners and CEOs of about 30 large companies.
The meeting discussed the issues of Kazakhstan-Turkish trade, economic, investment cooperation as well as further improving the investment climate.
In his speech, the Deputy Minister of Foreign Affairs of the Republic of Kazakhstan Almas Aidarov stressed that Turkish investors are among the most active today. By the end of this year, it is expected to implement about 5 new investment projects worth almost $160 million, in such sectors as infrastructure, mechanical engineering, food processing and woodworking.
Ambassador of Kazakhstan to Turkey Abzal Saparbekuly highlighted that Kazakhstan and Turkey are strategic partners with common historical, cultural and fraternal ties. During 8 months of 2020, despite the pandemic, the trade turnover amounted to over $2 billion with a 1.4% increase compared to the same period of 2019. At the end of 2019, about $ 360 million of Turkish investments were attracted, which is a new absolute record on an annualized basis.
As part of the event, a number of bilateral meetings were held with potential investors who expressed their intention to implement investment projects in Kazakhstan in industries, agribusiness, as well as through the mechanism of public-private partnership.
Following the negotiations, the parties signed 5 agreements worth about $160 million. The agreements intend to implement projects in Kazakhstan and to construct a logistics, shopping and entertainment center, a greenhouse, and a heat source. Additionally, there are plans to build a plant for gas-electric stoves production.
 https://invest.gov.kz/ru/media-center/press-releases/turetskie-investory-gotovy-vlozhit-160-mln-v-kazakhstanskie-proekty-/