Kazakhstan and Uzbekistan signed 52 agreements
Following the results of the II Forum of interregional cooperation, Kazakhstan and Uzbekistan signed 52 documents on the development of economic cooperation, including Forum Final Declaration, interdepartmental, interregional and commercial agreements in mechanical engineering, agricultural, financial, banking, industrial, infrastructural, pharmaceutical and other sectors totaling about $500 million, reports primeminister.kz.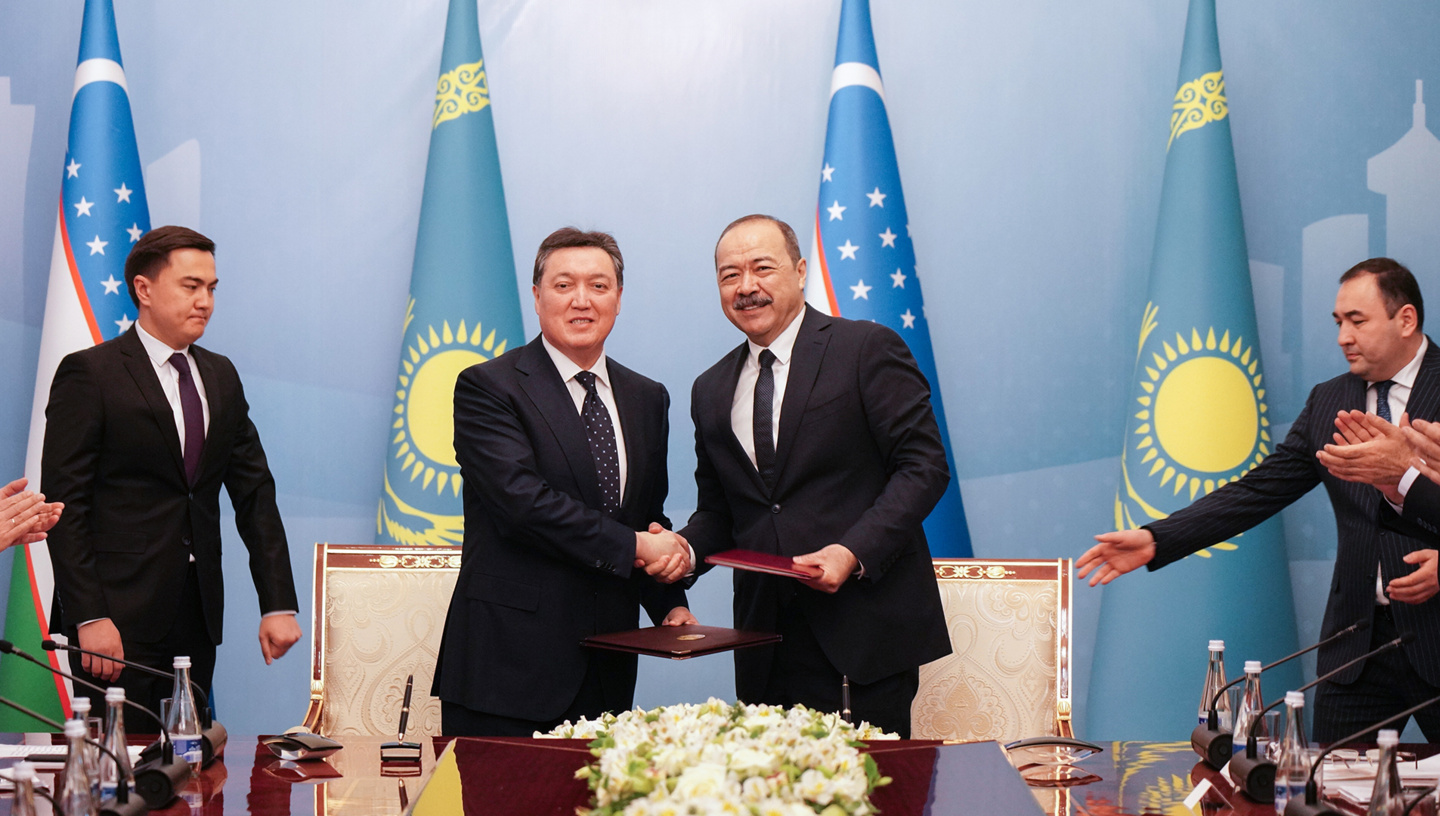 "Thanks to the political will of our leaders, the strategic partnership between Kazakhstan and Uzbekistan has reached a qualitatively new level," Askar Mamin said.
The Head of the Government of Kazakhstan stressed that the agreements reached on further increase of bilateral trade turnover dictate the need for active implementation of existing and the search for new points of contact of mutual interests.
At the meeting, Prime Minister Askar Mamin and Prime Minister Abdulla Aripov discussed prospects for further development of bilateral cooperation in trade, economic, investment, agricultural, transit and transport, water and energy, textile, engineering, tourism, and environmental sectors, as well as in financial technology and interregional cooperation.
It's worth noting that Askar Mamin and Abdulla Aripov participated in the final meeting of the II Forum of Interregional Cooperation of the Republic of Kazakhstan and the Republic of Uzbekistan on the theme "Cooperation of regional business in agro-industrial cooperation, industry and tourism sectors", which brought together over 300 people - heads of state agencies, regions, and representatives of business circles of the two countries.
The Prime Minister of the Republic of Kazakhstan put forward initiatives to create a Kazakh-Uzbek cluster of light industry on the basis of Ontustik FEZ in Shymkent, to open a joint tourist route for tourist sites in Turkestan, Tashkent, Samarkand, Bukhara and Khorezm regions, to jointly develop wholesale distribution and agro-logistics centers.
Askar Mamin made a special emphasis on the potential of cooperation between the two countries in transit, transport and logistics.
"For Kazakhstan, your country is access to South Asia, for Uzbekistan, our territory is access to the markets of the EAEU and Southeast Asia, the Caucasus and Europe", Askar Mamin said, stressing the need to intensify joint efforts to build the infrastructure of the North- South corridor", as well as the development of the Trans-Caspian international transport route.
The forum allowed representatives of business circles of the two countries to hold B2B (business-to-business) meetings, as well as present their production and investment opportunities at the specially organized exhibition.
https://kapital.kz/economic/85025/kazakhstan-i-uzbekistan-podpisali-52-soglasheniya.html