Kazakhstan's business climate and investment opportunities presented in Baku
On February 12, 2020, in Baku, the Ambassador of Kazakhstan Serzhan Abdykarimov took part in a business conference, organized by the regional organization Caspian European Club. The event was attended by about 60 representatives of business circles of Azerbaijan from various sectors, the Director General of Baku International Sea Trade Port CJSC Talekh Ziyadov, members of the Caspian European Club.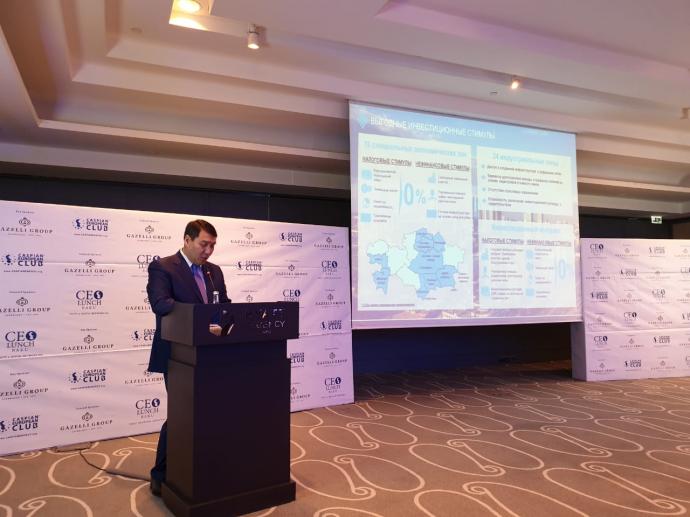 During the conference, the diplomat made a presentation and told the participants in detail about the attractive investment climate in Kazakhstan, business opportunities, legislative support as well as privileges and preferences created for investors, the activities of the National Company Kazakhinvest, working conditions in 13 special economic zones and 24 industrial zones of Kazakhstan. Azerbaijani entrepreneurs were also familiarized with the work of the Astana International Financial Center, its legal features and privileges for its participants.
Serzhan Abdykarimov invited Azerbaijani entrepreneurs to active invest and business activities in Kazakhstan. Booklets with over 70 investment projects of the Republic of Kazakhstan in various sectors were distributed among the guests of the event.
Caspian European Club unites more than 5000 companies and organizations from 70 countries of the world that operate in the states of the Caspian-Black Sea and Baltic regions.
 https://invest.gov.kz/ru/media-center/press-releases/delovoy-klimat-i-investitsionnye-vozmozhnosti-kazakhstana-prezentovali-v-baku/