Prime Minister Askar Mamin reviews preparations for a meeting of the Foreign Investors' Council chaired by the President of the Republic of Kazakhstan
Prime Minister Askar Mamin held an interim meeting of the Investors' Council (FIC) chaired by the President of the Republic of Kazakhstan.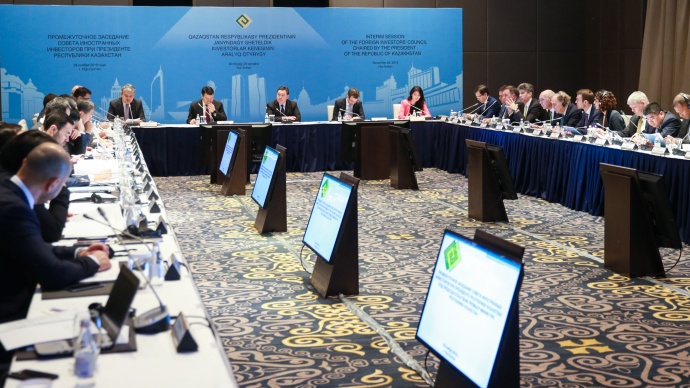 EY Managing Partner for Kazakhstan and Central Asia Erlan Dosymbekov, Managing Director of Agip Caspian Sea BV Nicolo Aggogeri, KNAUF Marketing and Sales Director in Kazakhstan, Kyrgyzstan and Tajikistan Dimitri Propp reported on the activities of the FIC joint working groups on the implementation of investment policies, energy, environment and the oil and gas industry, labor legislation, human capital development and attracting foreign labor.
The meeting examined the implementation of the protocol instructions of the 32nd plenary meeting of the FIC and preparations for the upcoming 2020 meeting of the Council on the theme "Development of non-resource exports."
"The topic of the upcoming plenary meeting of the Council is extremely relevant. According to the Strategic Development Plan of Kazakhstan by 2025, we have to reach an indicator for the volume of exports of non-primary goods and services up to USD41 billion", Askar Mamin said.
The Head of the Government noted that the total pool of investment projects for the coming five-year period is about USD120 billion. The main drivers of investment growth will be basic industrialization, agribusiness, transport, tourism and trade.
Along with the permanent representatives of the foreign members of the Council, the event was attended by members of the Government, the leadership of the Atameken National Chamber of Entrepreneurs and Baiterek Holding.
https://ru.invest.gov.kz/media-center/press-releases/premer-ministr-a-mamin-rassmotrel-podgotovku-k-zasedaniyu-soveta-inostrannykh-investorov-pri-prezide/