In Almaty, expert talked about key issues on implementing investment projects
Topical issues of investment support at the regional level were discussed as part of the training in Almaty, organized for representatives of government agencies and institutions of Almaty city, Almaty, Zhambyl, East Kazakhstan and Pavlodar regions.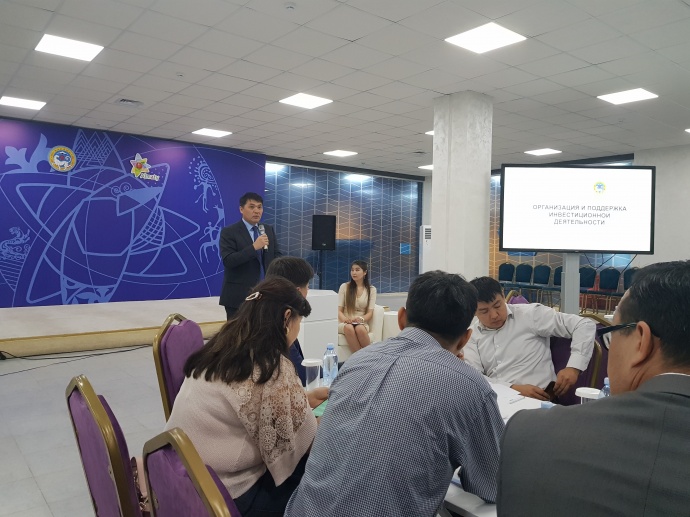 During the event, representatives of JSC "NC" Kazakh Invest "(hereinafter - Kazakh Invest) explained the current changes in the Entrepreneurial Code of the Republic of Kazakhstan, providing information on the AIFC's measures of protection of investors' rights, as well as opportunities of the Unified national interactive Internet resource for investors invest.gov.kz.
In particular, one of the speakers – Project Manager of the Department for service support and post-investment monitoring of Kazakh Invest Alida Tuebekova informed about the most important aspects of attracting investment in the non-primary sectors of the economy of Kazakhstan. According to the Manager, the key means of investment attracting are the components constituting the investment climate of the country. "First of all, these are state support measures: investment preferences, tax benefits in the form of duty-free equipment, raw materials and items, as well as the provision of land for the project. In the second - the availability of labor resources, and in the third - a high potential of domestic markets and infrastructure for the export of products ", - said the speaker.
The purpose of this event is to provide a single information hub for organizations participating in the "one-stop shop" in the field of attracting and supporting investments.
"This platform is very effective for improving the investment climate of our country. Representatives of government agencies, including investment institutions can gain experience by solving issues arising from working with investors," said Olzhas Bufenov, Deputy Head of the Expat Center of the AIFC.
In addition, at the workshop the participants were organized in groups where they solved simulated questions that may arise from entrepreneurs in the course of investment activities in Kazakhstan.
 https://ru.invest.gov.kz/media-center/press-releases/v-almaty-sostoyalsya-trening-po-organizatsii-i-podderzhke-investitsionnoy-deyatelnosti-/