KAZAKH INVEST presented investment opportunities in the mining and metallurgical industry at the International Congress
Almas Agibayev, a representative of JSC "NC" KAZAKH INVEST" (KAZAKH INVEST) presented Kazakhstan's investment opportunities in the mining and metallurgical industry (MMC) during the investment session of the international mining and metallurgical congress "Astana Mining & Metallurgy" (AMM), dedicated to issues of digitalization and investment industry horizons.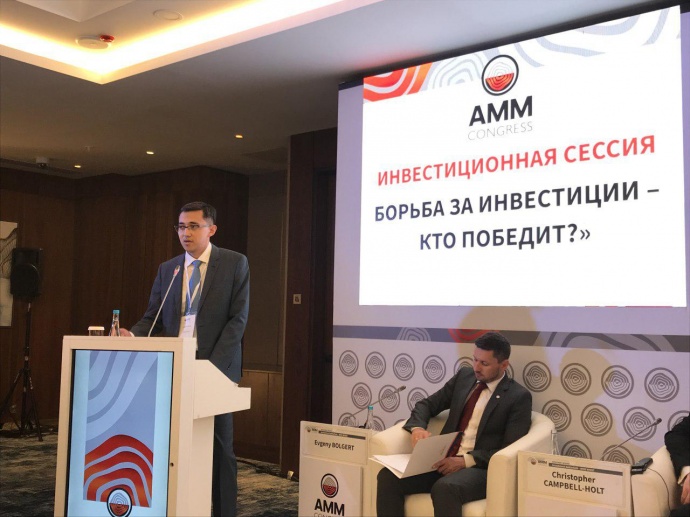 "KAZAKH INVEST, having a wide network of representatives abroad and in the regions of the Republic, provides a full range of services to support investment projects from an idea up to its implementation even in the post-investment period. Today, KAZAKH INVEST is monitoring more than 25 projects worth USD 9.7 billion in the mining and metallurgy industry. Including, construction and installation works are under way and documentation is being developed for 10 running projects (USD2,3 billion). 15 projects (USD 7.4 billion) are at the development stage, for which negotiations and comprehensive expertise are being held by potential investors," said Almas Agibayev.
In addition to providing comprehensive support for investors, KAZAKH INVEST carries out activities to find and identify new promising niches for potential global players in the mining and metallurgy sector. In order to promote investment proposals, for the second consecutive year, KAZAKH INVEST, in cooperation with international consulting companies, has been working on "packaging" niche projects meeting international standards, including the preparation of a complete business plan for project implementation.
"If we talk about mining and smelting projects, 20 out of 60 projects packaged over the past year are mining and smelting projects, most of which are small projects for the extraction and processing of metals, which require additional exploration to bring it to the start of mining operations. We are actively promoting these projects at all foreign events organized by KAZAKH INVEST and the Ministry of Foreign Affairs. Potential investors certainly have an interest. For a number of projects, we have already brought together potential investors with Kazakhstan project initiators. An active negotiation process continues," Almas Agibayev said.
In Kazakhstan, there are large reserves to attract investment in the MMC. According to Almas Agibayev, attractive niches may include projects for developing promising copper sites, such as Koskol, Soyuznoe, Bakalyadyr, as well as projects to expand Kazakhstan's production potential for primary aluminum due to a significant increase in global aluminum consumption and gold production, associated with the development of new deposits. "Projected gold resources in Kazakhstan are estimated at 9.500 tons. According to estimates, the additional potential of attracting investments in projects for the extraction and processing of gold ores can be as low as USD 10 billion," said Almas Agibayev.
One of the sectors with high growth potential is the mining and processing of rare and rare-earth metals. The speaker said that "in terms of the prospects for the production of rare metals, a high interest is shown in the world's largest wolframium deposits in Karaganda region (Northern Katpar and Upper Kairakty), which will attract up to USD 1billion and become one of the world's leading players in the world in ammonium paratungstate. Another promising project is the development of a large deposit of vanadium-bearing ores Bala-Sauskandyk in Kyzylorda region, involving the construction of a plant for processing vanadium concentrate with the production of vanadium pentoxide and vanadium concentrates. We are also viewing some interest in lithium in terms of the projected improvement in the global pricing environment. "
KAZAKH INVEST continues its activities to identify promising investment projects in the mining and metallurgy sector as well as to attract investors to their implementation.
 ***
KAZAKH INVEST is an official partner of AMM Congress, which is the central platform for discussing topical issues of the mining and manufacturing industry of Kazakhstan. Every year, more than 60 world experts, including politicians and public figures, world-famous scientists, chief executive officers (CEOs) of the largest companies, discuss with the delegates the main issues of the mining and metallurgical industry as well as development prospects at the AMM site.
https://ru.invest.gov.kz/media-center/press-releases/kazakh-invest-prezentoval-investitsionnye-vozmozhnosti-v-otrasli-gmk-na-mezhdunarodnom-kongresse/