Kazakh Invest presented Kazakhstan's investment opportunities at the 25th international conference "The Future of Asia"
Kazakhstan delegation took part in the 25th International Conference "The Future of Asia", in Tokyo, Japan. Within the framework of the forum, the delegation from Kazakhstan, consisting of Ambassadors-at-large Yerlan Khairov and Batyrkhan Kurmanseit, as well as representatives of NK Kazakh Invest JSC, held a range of negotiations with leading technology companies and organizations of Japan.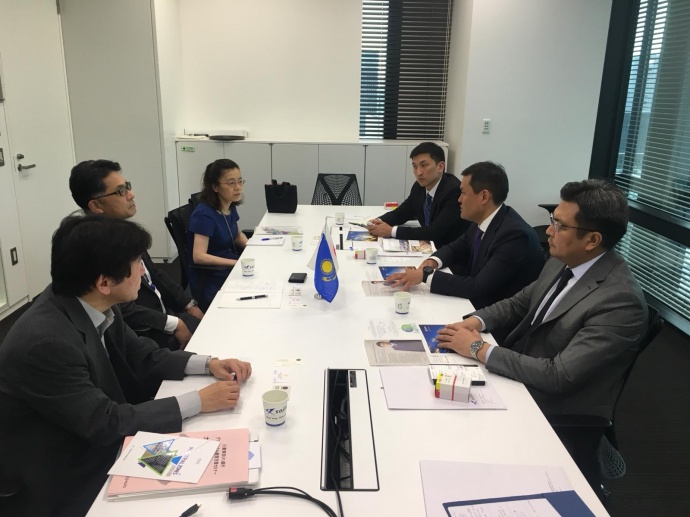 During the meeting with Toyota Tsusho, the possibilities of cooperation in the field of agriculture and the creation of projects with the further possibility of exporting products to Japan were discussed. Also, investors expressed their interest in importing Kazakhstani buckwheat, which is a popular ingredient in Japanese noodles. At the same time, foreign entrepreneurs showed interest in the introduction of 5G technology in Kazakhstan.
Along with this, representatives of Kazakh Invest JSC informed investors of the Japanese National Corporation for Oil, Gas and Metals JOGMEC about existing projects in the field of mining of rare earth metals, including nickel and cobalt. Investors, in turn, expressed their interest in implementing projects for the extraction of uranium and wolframium.
Following the negotiations with the transnational company "Sojitz" that has more than 50 years of experience in transport projects around the world, investors expressed their intention to implement a project for the production of containers and sleepers for railways, as well as the creation of a logistics hub in Kazakhstan. They were also interested in production in the agro and food industry, petrochemistry, IT projects.
In addition, during a meeting with the Japanese company "Jetro", agreements were reached on assisting in organizing an investment forum with the participation of Japanese companies in September this year.
The 25th International Conference "The Future of Asia" is an annual economic event organized by NIKKEI (Financial Times). The event hosts political leaders and influential businessmen from the Asian region. The agenda of this year's conference includes issues of further regional development, including export, investment and implementation of start-up projects.
   https://ru.invest.gov.kz/media-center/press-releases/kazakh-invest-prezentoval-investvozmozhnosti-kazakhstana-na-25-mezhdunarodnoy-konferentsii-budushche/