Kazakhstan's investment projects presented to Indian businesses
Kazakhstan-Indian investment forum took place in Kolkata, West Bengal. The organizers of the event were the Embassy of Kazakhstan in the Republic of India jointly with the Kolkata Merchant's Chamber of Commerce and Industry (MCCI) and Kazakh Invest National Company.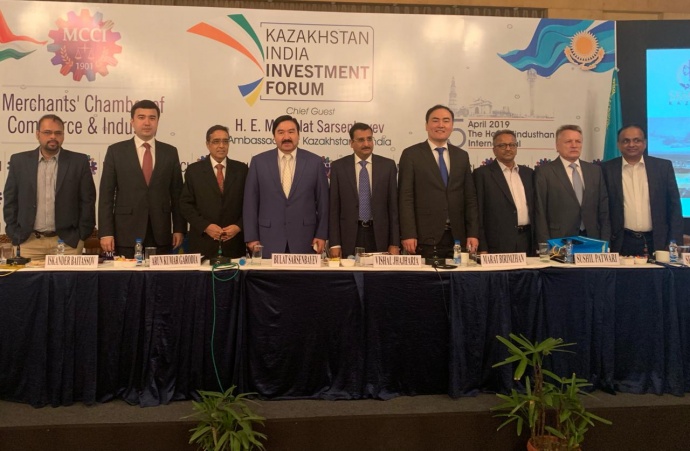 The Forum was attended by representatives of the Engineering Export Promotion Council (EEPC) of India, the Federation of Indian Export Organizations, expert and academic communities, as well as CEOs of over 50 major Indian companies (India power, RUPA Company Limited, JG Chemicals, KK Group, Multiwyn Group, etc.).
The participants of the Forum were provided with detailed information on the existing opportunities for doing business in Kazakhstan, conditions, state's support and competitive advantages for attracting foreign investments. The Deputy Chairman of the Board of NC Kazakh Invest JSC Marat Birimzhan briefed about Kazakhstan's investment climate and the prospects for the implementation of business-projects in the country, informed of a number of priority investment projects and called upon Indian companies to invest to Kazakhstan.
«Bilateral cooperation is consistently developing between our countries. I highly appreciate the vast changes underwent in Kazakhstan in such a short period of time. The country became open and attractive for business dealing, having a favorable investment climate», - MCCI President Vishal Jhajharia said.
It is worth noting that Indian businesses expressed interest in the projects demonstrated by Kazakh Invest and Samruk-Kazyna in the areas of mechanical engineering, telecommunication, agriculture, mining industry, healthcare, etc.
As part of the forum, there also have been a series of bilateral talks with Indian colleagues. Agreements have been reached on joint implementing of some projects. In particular, a representative of Shimkent Temir met with Indian partners concerning the purchase of the equipment producing direct reduced iron.
In addition, the Kazakhstan delegation carried on negotiations with representatives of one of the world's largest steelmaking companies Tata Steel related to cooperation in the area of metallurgy and production of a metal concentrate. 
Earlier, the Kazakhstan Embassy in New Delhi held meetings of business circles of Kazakhstan and India where the Kazakhstan delegation held a number of talks with Indian businesses.
The sides discussed a number of projects in the fields of energy, industry, agriculture, infrastructure and finance, as well as opportunities of the Astana International Financial Center.
Particularly, the talks were held with the largest energy conglomerate of India NTPC Limited, Investment Fund of India, Commercial and Industrial Chamber Millennial India International and the largest producer of agricultural machinery in India Mahindra Company that expressed interest in producing small tractors in the territory of Kazakhstan.
It is necessary to note that now Kazakhstan and India are fruitfully interacting across a wide range of sectors, such as space, military-technical cooperation, IT, Fintech, oil and gas, banking, etc. Kazakhstan is the major importer of uranium to India. The current Kazakhstan-Indian trade turnover accounted for USD1,2 billion.
https://ru.invest.gov.kz/media-center/press-releases/indiyskim-biznesmenam-prezentovali-kazakhstanskie-investproekty/