Education on Singapore standards: NC KAZAKH INVEST JSC promotes the implementation of an investment project of a leading Singaporean company in the field of education
On January, 18 within the framework of the visit to Kazakhstan the delegation of the Singaporean company met the head of NC KAZAKH INVEST JSC Saparbek Tuyakbayev to discuss the further plans. Discussion of stage-by-stage implementation of the investment project became the next step within the framework of the signed early Memorandum on mutual understanding between KinderWorld International Group and NC KAZAKH INVEST JSC in November, 2018.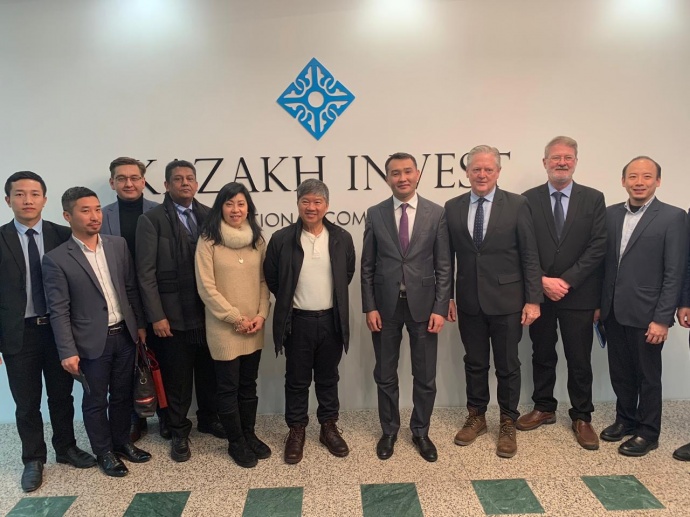 It is necessary to note that the team of NC KAZAKH INVEST JSC provides investors with the entire cycle of support and full-scale service support from a design stage up to commissioning, as well as during the postinvestment period. So, after signing the Memorandum on mutual understanding to establish a Singapore educational center, Kazakh Invest jointly with akimats organized the visit of the Singapore delegation to Kazakhstan as part of which meetings were held with the administrations of regions. They chose and demonstrated the land lots the most suitable for construction of the educational centers in Astana, Almaty and Shymkent cities. A meeting was held with Akim of the capital Bakhyt Sultanov to discuss a course of the implementation of the three-stage project.
The Singaporean company first familiarized with the investment opportunities of Kazakhstan at the Kazakhstan-Singapore investment forum, organized by Kazakh Invest as part of the working visit of the Prime Minister of the Republic of Kazakhstan Sagintayev B.A. on November 21, 2018. It is supposed that the educational centers will deliver services of preschool and secondary school education under the 12-year program.
In the future, according to the concept of the project it is planned to establish a network of the international educational centers of the Singaporean model of continuing education: kindergarten - school - college - university. Training in the centers of KinderWorld Kazakhstan will be based on the international programs of training - Cambridge IGCSE, Cambridge AS/A Level.
 For reference:
KinderWorld International Group started its activity in 1986 in Singapore and developed an educational network of continuing education. The program of education aims at the active development of STEM educational system (Science, Technology, Engineering and Mathematics). Now the company administrates 20 educational centers in the South-East Asia.
Schools are accredited by the international organizations, the company is awarded as one of the best companies as part of Business and Investment Summit ASEAN, held in Singapore on 12-13November, 2018
 https://ru.invest.gov.kz/media-center/press-releases/obrazovanie-po-singapurskim-standartam-ao-nk-kazakh-invest-sodeystvuet-realizatsii-investitsionnogo-/