Kazakhstan and China jointly established Investment Fund
An agreement on establishing the joint Kazakhstan-Chinese fund Eurasian Nurly (Bright) Investment Fund was signed within the framework of the official visit of the Head of the state Nursultan Nazarbayev to the People's Republic of China, on June 8, 2018, in Beijing.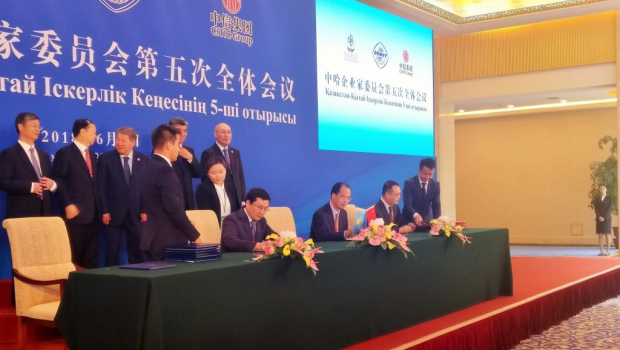 On behalf of the Kazakhstan party, the Agreement was signed by Aidar Arifkhanov, the Chairman of the Board of Baiterek National Managing Holding JSC, on behalf of the Chinese party – by Sun Yang, the Director General of CITIC Eurasian Capital Limited and by Lin Gan, CEO of China-Eurasian Fund of Economic Cooperation, reports the press-service of Baiterek National Managing Holding JSC.
"The expected target amount of the fund will account for US $500 million. The basic investments of the fund will be directed to implementing the projects in the territory of Kazakhstan in various sectors of the economy, including - development of infrastructure, processing of natural resources, logistics, information technologies, processing industry and agriculture", - Aidar Arifkhanov said.
A Kazakhstan partner on implementing the Agreement will be Kazyna Capital Management JSC - an affiliated organization of Baiterek Holding. The memorandum of mutual understanding on establishing the investment fund had earlier been signed on June 7, 2017 in Astana city within the framework of the Summit of the Shanghai Cooperation Organization.
«New fund - Eurasian Nurly (Bright) Investment Fund will allow to attract to the Kazakhstan's economy the investment of large institutional and private investors of China - CITIC Group, China Eurasian Economic Cooperation Fund, Asia Investment Finance Group Limited and others. Our fruitful work on expansion of sources of financing of the Kazakhstan projects has resulted in signing of the agreement", - Aset Sagimbekov, the Vice-Chairman of the Board of Kazyna Capital Management JSC said.



http://24.kz/ru/news/economyc/item/245528-kazakhstan-i-kitaj-sozdali-sovmestnyj-investitsionnyj-fond