Head of State participates in the 18th Interregional Cooperation Forum of Kazakhstan and Russia
The Forum was attended by the heads of regions, representatives of branch public agencies and business circles of the two countries.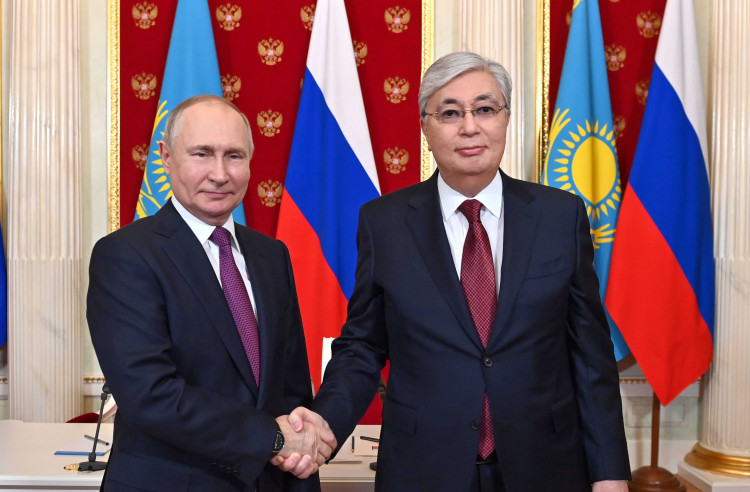 Addressing the participants of the event via videoconference, President Kassym-Jomart Tokayev stressed that lifting all restrictions and creating mutual benefits in trade is the key to the proper economic growth of Kazakhstan and Russia.
- Last month we marked a significant date for our countries - the 30th anniversary of establishing the diplomatic relations.
Over this time, our states have been able to build a mutually beneficial strategic partnership based on strong ties of friendship and good neighborliness. A trusting and constructive dialogue has been established between our countries, and a high level of cooperation has been achieved. We are actively cooperating within the framework of international organizations and integration associations (UN, CIS, CSTO, EEU, SCO, OSCE and CICA), which makes a significant contribution to ensuring regional security and enhancing the role of Eurasia in global politics and economy," said Kassym-Jomart Tokayev.
Moreover, the economic cooperation between the countries is growing year by year. Mutual trade turnover is steadily growing, joint projects are being implemented, and the share of national currencies in mutual exchanges is increasing.
- Last year, the volume of trade between Kazakhstan and Russia reached a new record high - $24.5 billion. The results of the first 9 months of this year show a 5 per cent increase of trade turnover. The variety of Kazakhstan exports to Russia has improved, and it is valued at over $100,000. Compared to last year, the number of commodity items increased from 640 to 1,050 ones. Supply of export products to Russian regions increased by over two and half-fold from Almaty, and five-fold from Astana. Cross-border trade has significantly increased. For example, deliveries to Russia from Aktobe region increased by 48%, from Pavlodar - by 36%, the Head of State noted.
Kassym-Jomart Tokayev said that over 17,000 companies with Russian participation and Kazakhstan-Russian joint ventures are successfully operating in our country.
- Russian investments in Kazakhstan increase every year. We will do our best to ensure the safety of Russian investments and attract as many more as possible into our economy. This is further proof of effective economic cooperation between our countries. The inflow of direct investment from Russia to Kazakhstan last year bypassed the pre-pandemic level by more than a third at over $1.9 billion. At the same time, investments from Kazakhstan to Russia also increased by 34%, reaching $535 million. At the same time, there is a significant potential for further strengthening of trade and economic cooperation between our countries. One area we are particularly interested in is collaborative cooperation. To date, 110 joint projects have been implemented between Kazakhstan and Russia in this area totaling $23 billion and creating about 30,000 jobs, the President emphasized.
Head of State called for accelerating the modernization of logistics chains. In his opinion, only timely and brave decisions can help in the search for new growth points in trade and the economy as a whole. Thus, in order to form a modern and efficient infrastructure for selling products, a system of trade hubs for the entire Eurasian space is being created in the border regions of Kazakhstan.
Moreover, in order to further expand multifaceted mutually beneficial cooperation, the President proposed to focus joint efforts on the following areas.
- Firstly, it is necessary to improve the activity of the Sub-Commission on Cross-Border and Interregional Cooperation. Among the key tasks of the Sub-Commission are the coordination and implementation of interregional cooperation programs. Secondly, special attention should be paid to the improvement of the border infrastructure and increasing the capacity of the border checkpoints between Kazakhstan and Russia. We believe this needs to be done in connection with the trans-national corridors that are currently being created, including within the One Belt, One Road Initiative, the North-South corridor, and of course, these transport corridors need to be aligned with the activity of the Eurasian Economic Union.
Thirdly. Kazakhstan is interested in the development of stable trade and investment relations, Kassym-Jomart Tokayev emphasized.
Among the main priorities are the construction of roads with the creation of logistics hubs and economic zones in the border regions of Kazakhstan and Russia, as well as the expansion of cooperation in the production of high value-added products.
https://www.akorda.kz/ru/glava-gosudarstva-prinyal-uchastie-v-hviii-forume-mezhregionalnogo-sotrudnichestva-kazahstana-i-rossii-28104721