Investment projects were presented to Head of State Kassym-Jomart Tokayev
The second day of the state visit of Kassym-Jomart Tokayev to Turkey started with an acquaintance with large investment projects which Turkish entrepreneurs are implementing in Kazakhstan.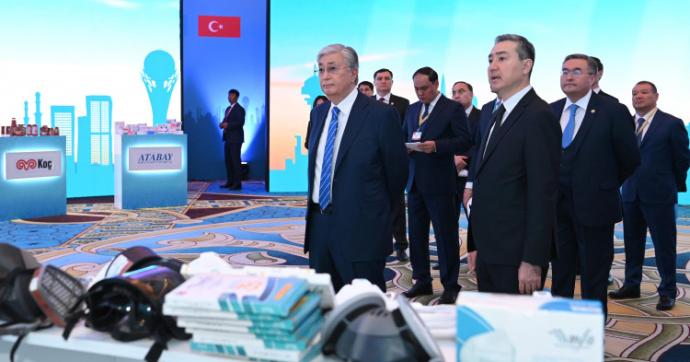 At the specialized exhibition, the Ambassador of Kazakhstan to Turkey Erkebulan Sapiyev briefed the Head of State on joint projects.
The President was presented with the projects of Yildirim Group that produces soda ash, Eczacıbaşı Holding - geological exploration, MFA Maske - medical and respiratory masks, production Iskefe Holding - gelatin production, Tiryaki Holding - agro-industrial products, YDA Group - production of construction materials, medical equipment and furniture, TAV Havalimanlari Holding - construction of a new international airport terminal in Almaty city, Kayatürk Group - construction of a shopping center, Koç Holding - production of agricultural products, Atabay Kimya Sanayi Ve Ticaret AS - production of pharmaceutical products, Panelsan - production of sandwich panels, Isiklar - production of paper products, Çalık Holding - geological exploration and production of agricultural products, Goknur Gida - production of fruits and vegetables.
 https://invest.gov.kz/ru/media-center/press-releases/glave-gosudarstva-kasym-zhomartu-tokaevu-byli-prezentovany-investitsionnye-proekty/