Roman Sklyar discussed economic and investment cooperation with German companies in Kazakhstan
First Deputy Prime Minister of the Republic of Kazakhstan Roman Sklyar and the leadership of German businesses operating in Kazakhstan held a meeting to address the implementation of joint investment projects and plans for further expansion of Kazakhstan-German economic cooperation.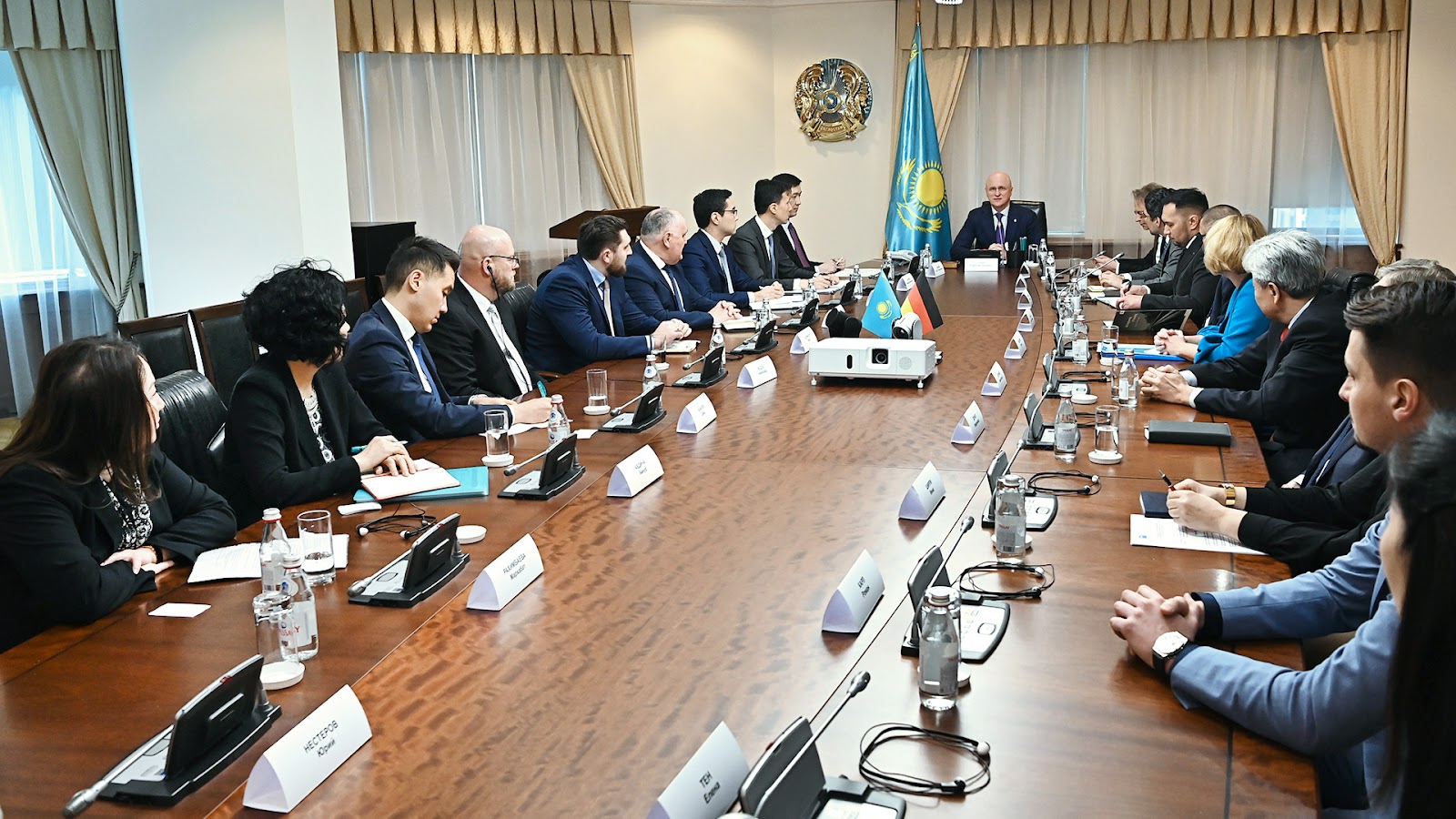 The event was attended by Linde Gas, SIEMENS, Bayer, WILO Central Asia, Lufthansa Group and others.
The meeting addressed the issues of sectors of the economy, such as mechanical engineering, metallurgy, energy, mining and metallurgy, etc. German partners stressed that in the conditions of instability of the global markets, Kazakhstan is becoming an increasingly attractive country for running business and attracting new investments.
Thus, the Chair of the Representative Office of the German Economy in Central Asia, Hovsep Voskanyan, noted the favorable level of the business climate in Kazakhstan, as well as stressed that German business expresses support for the institutional reforms carried out by the President of the Republic of Kazakhstan K. Tokayev.  
Dias Asanov, Director General of Siemens LLP, noted that the Company is already implementing pilot projects on digital transformation of the industry of the Republic of Kazakhstan. In the future, Siemens is also interested in participating in such projects as an infrastructure and technology partner to implement innovative solutions in the transport industry.
Furthermore, Director General of Bayer KAZ LLP Lauma Valtere highlighted the Government's participation and its constant readiness for an open dialogue, which, of course, contributes to the further improvement of the business climate. L. Valtere proposed to consider changing the certification mechanism for new innovative medicines.
The issues of demonopolization of projects of the mining and metallurgical complex were raised by Roman Karl, Director General of thyssenkrupp Industrial Solutions LLP. The company is ready to present a wide range of products and services in the mining, cement and chemical industries.
The talks demonstrated the interest and readiness of the parties for further mutually beneficial cooperation.
https://primeminister.kz/ru/news/roman-sklyar-obsudil-s-nemeckimi-kompaniyami-v-rk-ekonomicheskoe-i-investicionnoe-sotrudnichestvo-2234525