The XII Meeting of the Intergovernmental Commission addressed the development of trade and economic cooperation between Kazakhstan and Turkey
Nur-Sultan city hosted the XII Meeting of the Kazakhstan-Turkish Intergovernmental Commission on Trade and Economic Cooperation chaired by Prime Minister of the Republic of Kazakhstan Alikhan Smailov and Vice President of Turkey Fuat Oktay.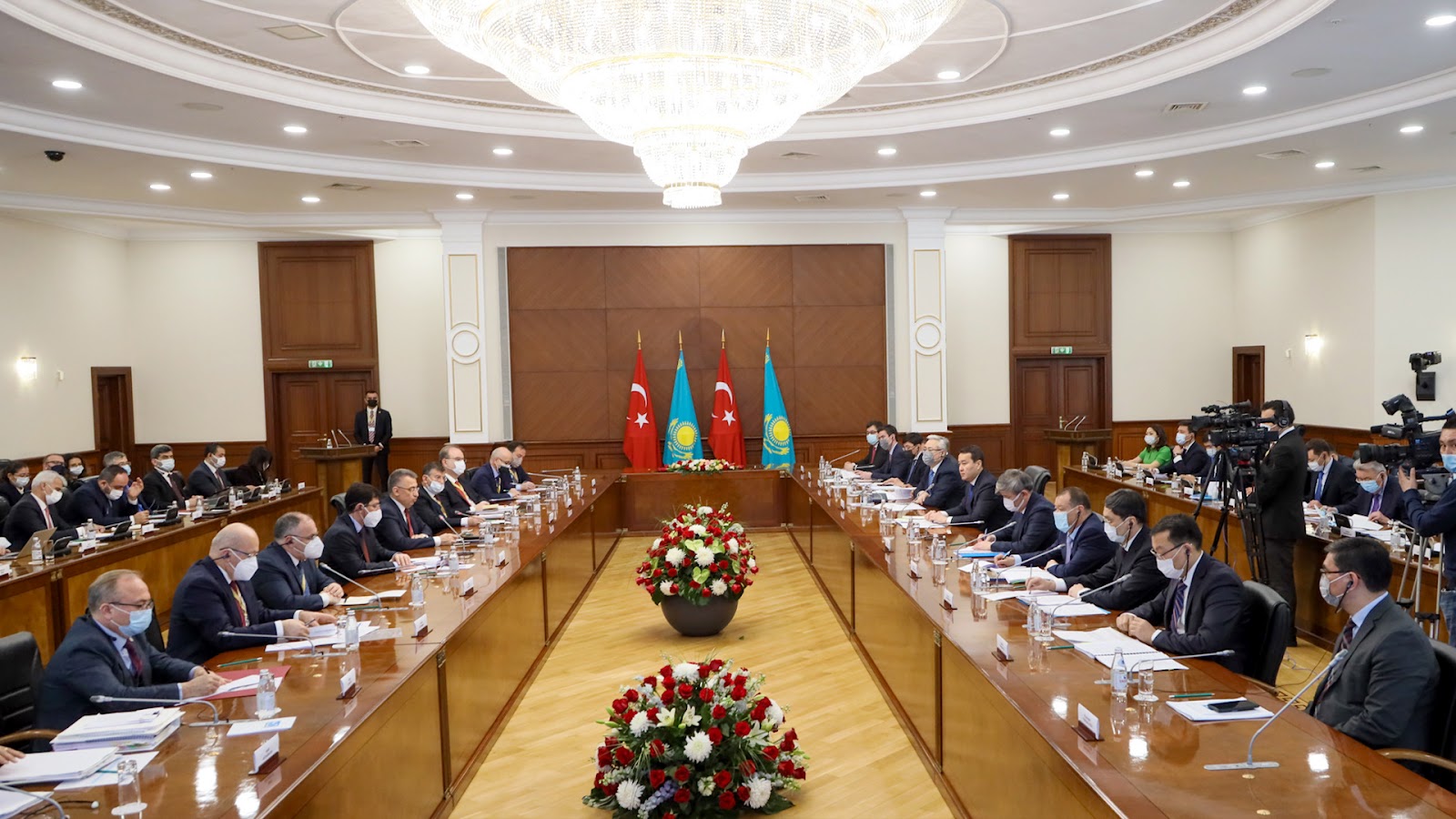 During the meeting, the parties discussed a wide range of issues related to the development of trade and economic cooperation between the two countries. In particular, they discussed the issues of interaction in the transit and transport sector, industry, tourism, geology, healthcare and agro-industrial complex. Moreover, attention was placed on the necessity to expand the airline geography between the two countries and increase regular flights.  
Turkey is one of the most priority trade, economic and investment partners of Kazakhstan. At the end of last year, the trade turnover between Kazakhstan and Turkey grew by 33% and exceeded $4.1 billion. The Prime Minister of the Republic of Kazakhstan highlighted that the Kazakhstan-Turkish partnership is of strategic nature, noting that exports from Kazakhstan to Turkey in 2021 grew by 39% and amounted to almost $3 billion, imports to Kazakhstan from Turkey in 2021 rose by 20.5% and amounted to $1.1 billion.
"Under the current circumstances, the Trans-Caspian International Transport Route, passing through the territories of Kazakhstan, Azerbaijan, Georgia, Turkey, and European countries, presents great opportunities to build the transit potential of Kazakhstan. For this reason, we propose to actively use the seaports of Aktau and Kuryk with further cargo dispatch via the Baku-Tbilisi-Kars railway line," Alikhan Smailov said.
For his part, Vice President of Turkey Fuat Oktay stressed that the Republic of Turkey is ready to further strengthen bilateral cooperation with Kazakhstan in all sectors, and will promote further development of mutually beneficial partnership. All-round negotiations on economic cooperation took place within the framework of the Meeting. The Kazakh side was attended by the Minister of Industry and Infrastructure Development, Vice Ministers of Trade and Integration, National Economy, and Healthcare, etc. The Turkish side was attended by Vice Ministers of Industry and Technology, Trade, Transport and Infrastructure, Healthcare.
Following the talks, the final protocol of the IGC Meeting was signed and a joint plan was adopted.
The members of official delegations held bilateral meetings to address topical issues of trade and economic cooperation between the two countries.
https://primeminister.kz/ru/news/razvitie-torgovo-ekonomicheskogo-sotrudnichestva-kazahstana-i-turcii-obsudili-na-xii-zasedanii-mezhpravkomissii-422154