Poland considers Kazakhstan as an attractive investment market
The prospects of trade and economic relations with Poland were addressed as part of the meeting of KAZAKH INVEST CEO Zhandos Temirgali and the Vice-Mayor of the Wroclaw Agglomeration Jakub Mazur, as well as the leadership of the Wroclaw Agglomeration Development Agency (ARAW) and representatives of the Polish Investment Agency and Trade (PAIH).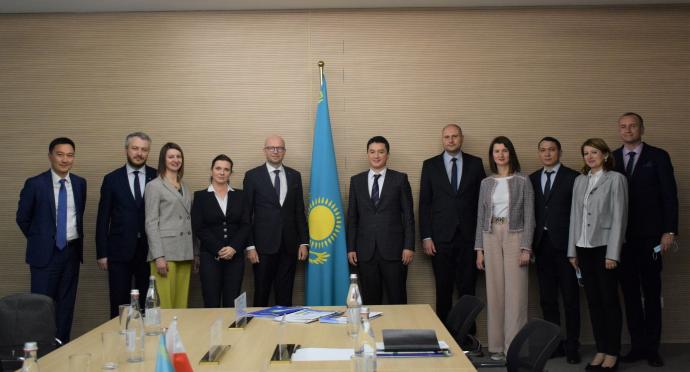 So, during the meeting, Zhandos Temirgali briefed the Polish side on the Kazakhstan's investment climate, its financial instruments, the key advantages of project implementation and measures of state support for investments. He also highly appreciated the results of the Kazakh-Polish Economic Forum held in October this year, where the Polish business circles reported the high interest in cooperation with Kazakhstan.  
Vice-Mayor of the Wroclaw Agglomeration Jakub Mazura, positively assessing the pace of economic development of Kazakhstan, as well as investment attractiveness, recorded the growing interest of Poland in Kazakhstan, and invited to discuss promising directions for establishing investment cooperation in various sectors.
In turn, Wroclaw Agglomeration Development Agency CEO Magdalena Okulowska described the ongoing activities of the enterprise and pointed out the potential for investment cooperation in the development of science and education, technology and innovation. She also announced the readiness of the Polish side to work together in the above-mentioned sectors.
Following the meeting, an agreement was reached to hold a joint event next year for further elaboration of issues within the framework of the implementation of joint projects.
For reference: Wroclaw is the fourth largest city in Poland. Wroclaw is also one of the largest European hubs for the automotive, aircraft and home appliance sectors. There are more than 200 centers of modern business services in the city. It also has the headquarters of largest foreign companies such as LG Energy Solutions or Amazon.
ARAW was established in 2005 by the authorities of Wroclaw city and 29 local municipalities of the Agglomeration. The company performs tasks in three key areas: increasing investment attractiveness, implementing information policy and introducing promising projects.
 https://invest.gov.kz/ru/media-center/press-releases/polsha-rassmatrivaet-kazakhstan-kak-privlekatelnyy-rynok-dlya-investitsiy/