Askar Mamin discussed with German entrepreneurs on joint implementation of projects in the Republic of Kazakhstan
Prime Minister Askar Mamin held a meeting with the leadership of German companies Svevind Energy GmbH, Linde AG, Redpath Deilmann Gmbh, Siemens Energy, Goldbeck Solar GmbH, Saria SE & Co. KG, Becker Mining Systems, and the Eastern Committee of the German Economy.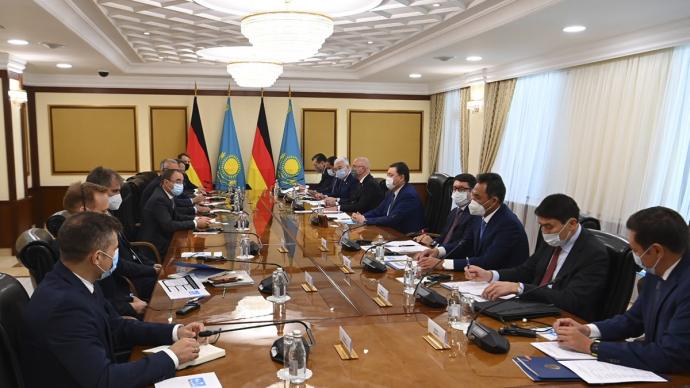 The parties discussed the state and prospects of implementing joint projects in the renewable energy, gas processing, agro-industrial complex, mechanical engineering, mining and metallurgical industry, etc.
The Prime Minister stressed that Germany is one of the largest trading partners and key investors in Kazakhstan. Since 2005, the volume of direct foreign investments of Germany in the economy of the Republic of Kazakhstan amounted to almost $ 5.1 billion. In the first quarter of 2021, this figure increased by 72% compared to the same period last year and exceeded $ 64.6 million. In the first half of 2021, the commodity turnover between Kazakhstan and Germany increased by 26% to $ 1.2 billion. Over 950 enterprises with the participation of German capital operate in Kazakhstan in the energy, agro-industrial complex, mechanical engineering, construction and logistics sectors.
The meeting was attended by Deputy Prime Minister Roman Sklyar, Minister of Industry and Infrastructure Development Beibut Atamkulov, Minister of Agriculture - Erbol Karashukeyev, Minister of Energy - Magzum Mirzagaliyev, Minister of Ecology, Geology and Natural Resources - Serikkali Brekeshev, CEO of Samruk-Kazyna National Welfare Fund JSC Almasadam Satkaliev, Ambassador of the Republic of Kazakhstan to Germany Dauren Karipov and others.
https://primeminister.kz/ru/news/a-mamin-obsudil-s-predstavitelyami-biznesa-frg-realizaciyu-sovmestnyh-proektov-v-rk-1385933?fbclid=IwAR3aI6GvJmmcz4fXhqlu_X5_fpWjgAp0yGh8a7XWp_8G2_3ARw96jkQkJ0Y