KAZAKH INVEST attended the ceremony of establishing the Chinese-Eurasian Investment Promotion Alliance in China
The investment potential of the Republic of Kazakhstan in priority sectors of the economy was presented at the China-Eurasia Investment Forum. The forum, hosted by the Investment Promotion Agency of the Ministry for Commerce of the PRC, was attended by almost 50 representatives of business circles and trade-economic organizations. Moreover, the establishing ceremony of the Chinese Eurasian Alliance for Promoting Investment Cooperation took place as part of the event.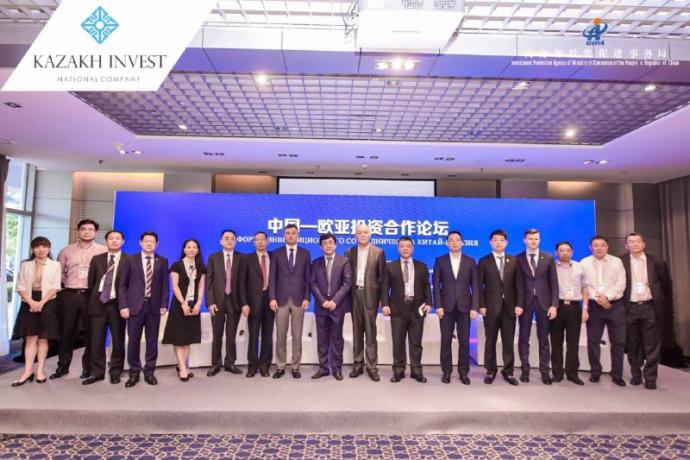 So, during the Forum, the Representative of NC KAZAKH INVEST JSC in China Zhanat Baitenov presented the business climate of Kazakhstan, as well as the measures of state support for investment projects in the Republic of Kazakhstan. He briefed on the current state of the Kazakhstan-Chinese investment cooperation, and also shared his vision on the mutually beneficial use of the platform of the Chinese Eurasian Alliance in order to attract investment and develop international trade.
Furthermore, as part of the event, the Kazakhstan side held a set of substantive negotiations on potential projects with the leaders of large business communities in the regions of Jilin, Heilongjiang, Shengxi, Jiangsu, etc.  
During the meetings with Chinese investors, a keen interest was identified in establishing bilateral cooperation, including such large companies as CITIC Construction, Great Wall Motor, etc. Following the negotiations, the parties reached an agreement to discuss further cooperation at the first meeting of the Expert Committee of the Alliance and the Secretariat to be held in October this year.
 https://invest.gov.kz/ru/media-center/press-releases/kazakh-invest-prinyal-uchastie-v-tseremonii-uchrezhdeniya-kitaysko-evraziyskogo-alyansa-po-prodvizhe/