Kazakhstan's investment opportunities in mining and metallurgy presented at PDAC Conference in Canada
Kazakhstan presented its investment opportunities in the mining and metallurgical complex at the annual PDAC Exhibition and Conference in Toronto. The three-day industry event was attended by over 25,000 people from 135 countries.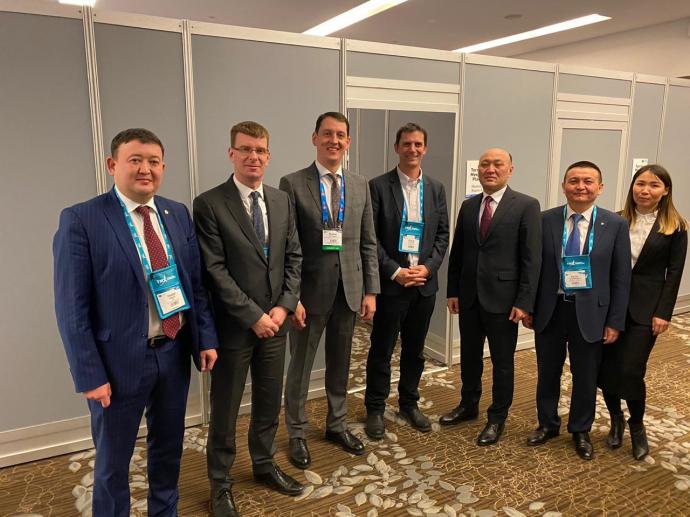 The Kazakhstan delegation included the Vice Minister of Industry and Infrastructure Development of the Republic of Kazakhstan Ruslan Baimishev, representatives of NK KAZAKH INVEST JSC, the Committee for Geology and Subsoil Use and KazGeoInform, KazGeology, TauKen Samruk, AIFC, as well as representatives of Kazakhstan business community.
During the event, the participants were presented the prospects for the development of the mining and metallurgy complex, measures of state support for investments, as well as a number of projects available in the pipeline of NC KAZAKH INVEST JSC.
"Today KAZAKH INVEST has a number of projects in the mining and metallurgical complex. The Government provides a number of incentives to stimulate the processing of raw materials within the Republic of Kazakhstan. In this regard, we target investors producing products with high added value. During the forum, we discussed in detail the legislative framework and shared successful practices of doing business of foreign companies in Kazakhstan", said Dilyara Tektigulova, Project Manager of NC KAZAKH INVEST JSC.
Following the forum, a series of bilateral meetings were held with the large companies from the USA, Canada and Russia as Kinross Gold, Anglo-American, Freeport-McMoran, B2Gold, POLYUS, Forbes & Manhattan, etc.
Following the talks, representatives of foreign business showed interest in implementing projects for the development of gold, copper, nickel and rare metals deposits.
"I'd like to note that with the adoption of the new code "On Subsoil and Subsoil Use", Kazakhstan's demand for advanced technologies and the involvement of specialized investment and junior companies for the development of promising deposits and the development of exploration, as well as the availability of the AIFC's possibilities, several companies expressed their interests in doing business on the territory of our country", added Dilyara Tektigulova.
Additionally, the delegation held a meeting with the leadership of the provinces of Quebec and British Columbia for sharing experiences in the geological exploration and subsurface use, as well as database management. They discussed measures of the state support of Canada to develop the industry and possible ways of cooperation for the exchange of experience and the use of advanced technologies of Canada.
https://invest.gov.kz/ru/media-center/press-releases/investvozmozhnosti-kazakhstana-v-sfere-gmk-prezentovali-na-konferentsii-pdac-v-kanade/