Kazakhstan reported on investment climate in OECD
Kazakhstan delegation, chaired by the Ambassador-at-Large for the Ministry of Foreign Affairs of the Republic of Kazakhstan Erlan Khairov, took part in the expanded meeting of the OECD Investment Committee.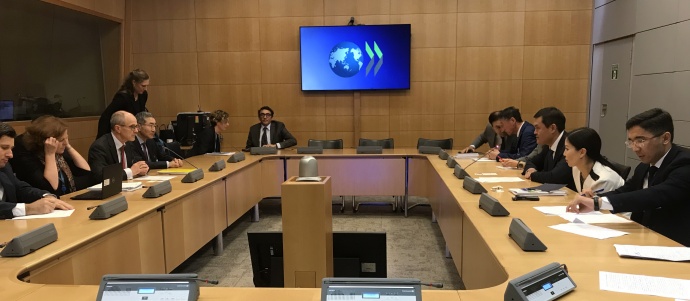 In June 2017, Kazakhstan received the status of an "associate member" in the OECD Investment Committee and joined the "Declaration on International Investment and Multinational Enterprises". Membership in the Committee allows Kazakhstan to consistently adopt the standards and practices of OECD countries in improving the country's investment climate.
As part of the meeting, separate meetings were held with the Chairman of the OECD Investment Committee M. Shekulin, the Head of the OECD Eurasian Department W. Thompson, OECD Advisory Committees on Trade Unions, Business and Industry, where they discussed issues of Kazakhstan's membership in the Investment Committee and further steps to maintain this status.
According to the results of the report, the Organization noted the progress of Kazakhstan in the anticorruption issues, ensuring the rights of workers, and the national regime in relation to FDI. However, the OECD is encouraged to continue further work on improving the country's investment climate, using best practices and platforms.
https://ru.invest.gov.kz/media-center/press-releases/kazakhstan-predstavil-doklad-ob-investitsionnom-klimate-v-oesr/