Kazakhstan and Germany agreed to implement joint projects worth USD700 million
Agreements on implementing investment projects with German companies for a total amount of about USD700 million were reached In Berlin. That was announced at the Kazakhstan-German business forum. The event discussed the prospects of cooperation with such companies as Linde Gas, SMS Group, CLAAS Group, Masterrind, the Kapital.kz business information center refers to the press service of KAZAKH INVEST.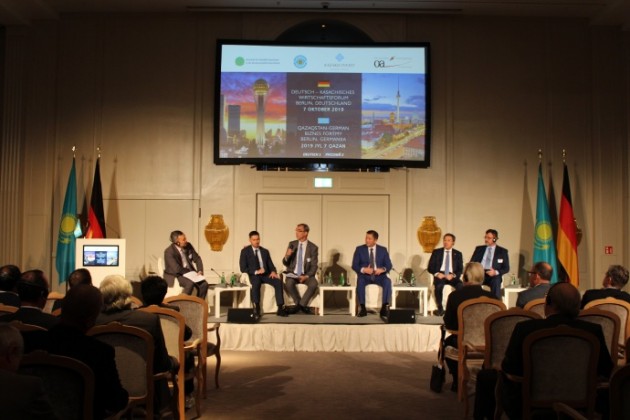 Планируется, что документы о реализации инвестиционных проектов будут подписаны в декабре 2019 года в рамках официального визита президента Касым-Жомарта Токаева в 
It is planned that documents on the implementation of investment projects will be signed in December 2019 as part of the official visit of the President of Kazakhstan Kassym-Zhomart Tokayev to Germany.
The forum gathered over 200 representatives of business circles of the two countries. The Kazakhstan delegation was chaired by the Deputy Prime Minister of Kazakhstan Roman Sklyar.
"In order to move away from the raw material vector of economic development, Kazakhstan has begun modernizing and industrializing the domestic economy. The basis of the new policy is to develop the innovative-industrial and green economy. In this regard, Kazakhstan entrepreneurs aim to attract companies from Germany to cooperate as leaders in the areas of new technologies and innovations. Particularly pressing is the development of new branches that are created using digital technologies, as well as the introduction of elements of Industry 4.0", said Roman Sklyar.
It is worth noting that over the past 14 years, German companies have invested in our country about USD5 billion. According to German statistics agencies, the trade turnover by the end of 2018 reached a historic maximum of 5.1 billion Euros.
"Kazakhstan today means new opportunities and potential for profitable business. Thus, according to the EBRD forecast, GDP in 2019 can grow by 3.5%. Forecasts for 2020 indicate that Kazakhstan is the engine of growth in the Eurasian Economic Union. We are very pleased that the positive development had a positive impact on the German-Kazakhstan economic relations: in the first half of the year we've already exchanged goods for EUR 2.7 billion. Kazakhstan still accounts for more than 80% of Germany's trade with the Central Asian region", said Manfred Grundke, the Member of the Board of the Eastern Committee of the German Economy, General Partner of Knauf.
Today in our country there are over 900 companies with Germany capital. Domestic entrepreneurs intend to expand existing cooperation by implementing new projects. The forum participants noted that German business considers Kazakhstan to be "a reliable partner in the Central Asian region." Jointly with the Eastern Committee of the German Economy, a draft Road Map for Trade and Economic Cooperation was developed with an appendix of the List of Investment Projects, which is planned to be signed during the visit of the head of the state.
https://kapital.kz/economic/81774/kazahstan-i-germaniya-dogovorilis-o-realizacii-proektov-na-700-mln.html