Kazakhstan and Lebanon intend to develop cooperation in fields of trade and investment
The meeting of Vice-Minister for Investment and Development of the Republic of Kazakhstan Timur Toktabayev and the Ambassador Extraordinary and Plenipotentiary of the Republic of Lebanon Mr. Giscard El Khoury took place on December, 12 this year.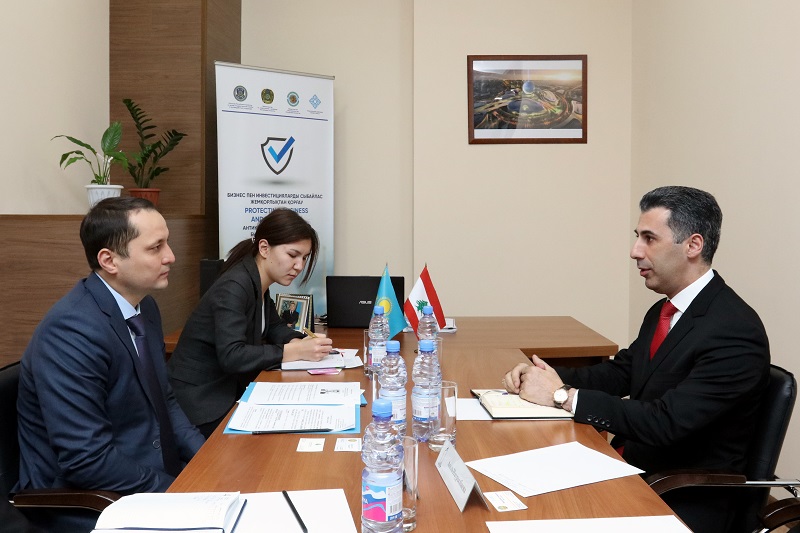 During the meeting, the sides discussed issues of development of bilateral trade, economic and investment cooperation.
The parties stressed the need for building long-term partnerships as well as developing the trade and economic potential.
The Ambassador proposed to consider the possibility of investing in the Lebanese economy for large enterprises from Kazakhstan. In addition, the issues were initiated concerning the status of the draft agreement between the Government of the Republic of Kazakhstan and the Government of the Republic of Lebanon on encouragement and mutual protection of investment. The Ambassador also initiated the issues of the legal framework in the banking sector and requirements to implementing the activities of foreign banks and their branches in Kazakhstan.
The Vice-Minister briefed on the ongoing privatization program and available investment opportunities in the country, as well as on the created conditions for potential investors. T.Toktabayev also noted a separate role of the national company Kazakh Invest in supporting investors and an additional support in the form of Astana International Financial Center which has recently been established. 
Moreover, the parties discussed Kazakhstan's export opportunities for delivery of products in the nearby markets of China, Russia and other states-members of the Commonwealth.
In conclusion, the parties agreed to continue their cooperation in spheres of trade, economy and investment. The Vice-Minister informed that all necessary measures will be taken to strengthen the cooperation.
The meeting was held in a friendly and constructive atmosphere.
http://mid.gov.kz/ru/news/kazahstan-i-livan-namereny-razvivat-sotrudnichestvo-v-sfere-torgovli-i-investiciy