Businessmen of Tatarstan were proposed to increase actively cooperation with Kazakhstan
Kazakhstan-Tatarstan business-forum with participation of representatives of business circles has started today in Astana. The Minister for Investment and Development of the Republic of Kazakhstan Zhenis Kasymbek and the Deputy Prime Minister - Minister of Industry and Trade of the Republic of Tatarstan Albert Karimov delivered the speeches at the event. The parties stressed their interest in further increasing trade-economic and investment cooperation between Kazakhstan and Tatarstan.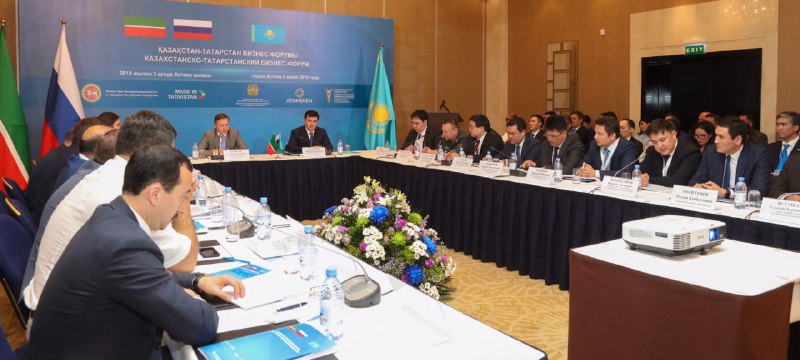 Expressing the interest in the experience of Tatarstan development in the spheres of oil products processing, mechanical engineering, agriculture, education, science and innovation, Zhenis Kasymbek invited businesses of Tatarstan to implement joint projects.
«The container transportation through SEZ "Horgoz - Eastern Gate" towards Europe almost doubled. We invite Tatarstan businesses to participate in the activities of the special zones. We are also ready to consider a possibility to participate in establishing a similar center in Kazan city, and to ensure the control of chains of deliveries between the specified centers. I think that the work in this direction has mutual benefits in view of prospects of integration of EAEU with «Economic Belt of Silk Way», - the Minister said.
In addition, projects in the spheres of innovation, digitization and high technologies are of interest to Kazakhstan.
«Certainly, Kazakhstan is the key among priority partners of Tatarstan. The industry of Tatarstan is progressing well every year, so that the Republic is one of the most economically stable and prospering regions of Russia. In addition to mechanical engineering, aviation industry, there are several directions which we would like to implement together with Kazakhstan in the long term», - Albert Karimov, the Minister of Industry and Trade of the Republic of Tatarstan said.
According to results of 2017, the trade turnover between Kazakhstan and Tatarstan grew almost in 1,7 times and accounted for USD 702,9 million (in 2016 – USD 425,3 million), projects are being successfully implemented in the petroleum chemistry, mechanical engineering, telecommunications, light and defensive industry. In the 1-st quarter of 2018: the foreign trade turnover amounted to USD 201,7 million (4,7 %), or 163,7 % to the level of the 1-st quarter of 2017.
- It is exported USD 175,8 million worth of goods, that up by 149,4 % compared to the 1-st quarter of 2017.
- It is imported USD 25,8 million worth of goods, having increased in 4,7 times in comparison with the similar period of 2017.
http://mid.gov.kz/ru/news/biznesmenam-tatarstana-predlozhili-aktivno-narashchivat-sotrudnichestvo-s-kazahstanom