Geography
The district is located in the north of East Kazakhstan region, with 200 km from the regional centre (Ust-Kamenogorsk city), the distance to the nearest railway is 25 km.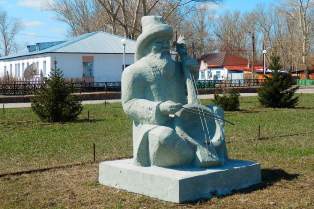 History
Borodulikha settlement was founded in the second half of XIX century. Till 1917 Borodulikha was an ordinary large settlement as many other located to the east from the Urals. This very settlement had a lot of peculiarities which made a considerable impact upon the whole Soviet period. They are: the outlying administrative position, multiply ethnic composition, fertile lands.
On administrative division Borodulikha belonged to the Tomsk province, Zmeinogorsk district and was a local district. So, if the whole Siberia was a suburb of the tsarist Russia, Borodulikha was in the very outskirts. Semipalatinsk economically attracted Borodulikha, rather than to Zmeinogorsk and still less Tomsk. Zmeinogorsk was a small district town that time and no peasants went there. The peasants of Borodulikha settlement as well as in all Siberia didn't know about the private property on land. The land was in public property but in private use.
Territory
The total area is 7,2 thousand square meters, including 87773 hectares of forest, 14301 hectares of water.
Borders
Borodulikha district borders on Shemonaikha district in the east, on Beskaragai district in the west, on the Altai Krai of the Russian Federation in the north, on Semey city in the south. The distance
- to the regional centre Ust-Kamenogorsk city - 200 km,
- to Semey city - 66 km,
- to Astana city- 830 km,
- to Almaty city - 1200 km.
Population
39,2 thousand people live in the district with more than 30 nations. Kazakhs - 28,4 % to the total number of population, Russians - 55,6 %, Germans - 11,1 %.
Infrastructure
In the district there are 34 comprehensive schools, including 25 secondary schools, 4 basic schools, 5 primary schools with 4795 pupils. 2 nonschool institutions: KGKP "Zhezkent children's musical school" (133 children); KGKP "Creativity House" (185 children).
The education system employs 883 teachers, including 733 with higher education and 150 teachers with secondary specialised education. 64 teachers have the highest category, the first category - 198 teachers; the second - 267; without category - 354. Of all the teaching staff of the district 39 persons are awarded Certificates of honour of the Ministry of Education of the Republic of Kazakhstan.
Preschool education comprises 3 children's preschool establishments: in Zhezkent settlement – "Topolyek, "Solnyshko" and 1 kindergarten in Borodulikha settlement with 633 children; 13 mini-centres with 425 children.
257 shops, 88 social departments in "Ardager" shops and a social shop "Ardager" in Zhezkent settlement, 11 kiosks, 9 gas stations, 6 service stations, 19 drugstores and branch pharmacies (including: a social drugstore in Zhezkent settlement and a social department in Borodulikha settlement), 14 hairdressing salons, 2 photo salons, 3 computer clubs, 2 shops on repair of household appliances, 1 shop on repair of furniture, 1 shop on repair of footwear, 2 hotels, 2 dental offices, 34 catering establishments (dining rooms, cafe, bars), 2 retail markets, 7 sewing studios.
Production
The agriculture and small business comprise 495 agricultural organizations, including 468 farms where priority is given to production of grain and oilseeds, sunflower, development of meat and dairy cattle breeding.
The agriculture of the district works to meet the needs of the population in terms of foods.
In 2016 the area under crops made up 304,361,5 hectares, 64 % of all grain area is under spring wheat, 13 % under cereals and 14 % - fodder grain.
Sunflower area is 121,690 hectares.
As of July 1, 2016 the livestock on Borodulikha district in all categories makes up: great cattle - 38305, sheep and goats - 43338, pigs - 10838, horses - 6189, poultry - 109440.
It is produced: meat of 4227,1 tons, milk - 24419,6 tons, 5424,9 thousand eggs.
Need for personnel resources
E.Zaitenov farm – a veterinarian, an electrician
Raushan farm – a driver of ВСDE categories, an electrician, a builder, a hodman
Merdar farm – a tractor operator, shepherd
"Novaya zarya" farm Ltd - a milker, a machine operator
"Krasnyi Partizan" farm Ltd - a bookkeeper, a driver, an agriculturer, an autoelectrician, an electrician, a machine operator, a welder
"Jumash" Ltd - a shepherd, a tractor operator
"Rodina" farm - a welder
"Trud" farm - a bookkeeper
"Tleubek" farm - a machine operator
"Jasmin" farm - a livestock specialist, a veterinarian
"Argyn-2" farm - a loader on loading of square bales, a weigher
Komarov secondary school – a teacher of mathematics with the Kazakh language of education
"Sakhnovskoe" Ltd - an electrician on electric equipment, an electrician, a bookkeeper, a machine operator, a ВС driver, a turner
Abai secondary school – an assistant worker
"Kazpost" JSC- an operator-controller
"Lina" farm - a bookkeeper
District territorial inspection - an agriculturist
"Veterinary service of Borodulikha district" - a veterinarian
Grandee Cafe - a waiter
NEXT Shop – a seller with knowledge of 1С
"Secondary school 2-nd Pyatiletka" - a medical sister
Tourist potential
5 objects: "Shulba water basin" Ltd "Nursultan" resort, a scheduled lot No.1 under temporary facilities; "Zhezkent mining-and-processing integrated works" Ltd, "Irtysh" recreational area; "Corporation Kazakhmys" Ltd "Crystal" camp.